The latest price of Toyota Corolla Cross in September 2020
---
Updated list price and rolling wheel Toyota Corolla Cross full versions.
Event: Toyota Corolla Cross
Toyota Corolla Cross 2020 officially launched in Vietnam in early August 2020, joined the mid-size SUV segment, became the newest rookie, and competed with models such as Hyundai Kona , Honda HR-V and Ford EcoSport .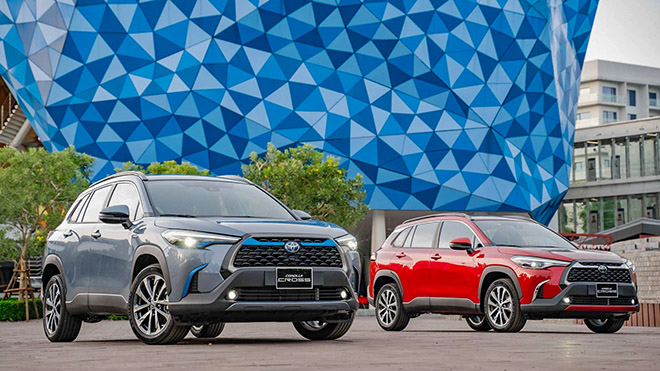 Toyota Corolla Cross 2020 has a total of 7 exterior color options: black, silver, brown, white, red, blue, gray.
In Vietnam, Toyota Corolla Cross 2020 is imported complete unit from Thailand, so it is not entitled to 50% discount of registration fee for domestically assembled vehicles under Decree 70/2020 / ND-CP.
Refer to the listed price and temporary wheel for Toyota Corolla Cross 2020, updated in September 2020:
Version

Color

Price
listed
(million VND)

Price rolling (million VND)

Hanoi

TP. HCM City

Other province / city

Toyota Corolla Cross 1.8HV

White pearl

918

1,050

1,032

1,013

Other colors

910

1,041

1,023

1,004

Toyota Corolla Cross 1.8V

White pearl

828

949

933

914

Other colors

820

940

924

905

Toyota Corolla Cross1.8G

White pearl

728

837

823

804

Other colors

720

828

814

795
Note: the price above is for reference only, the price does not include promotions at the dealer (if any), the price may vary depending on the region and equipment of each vehicle.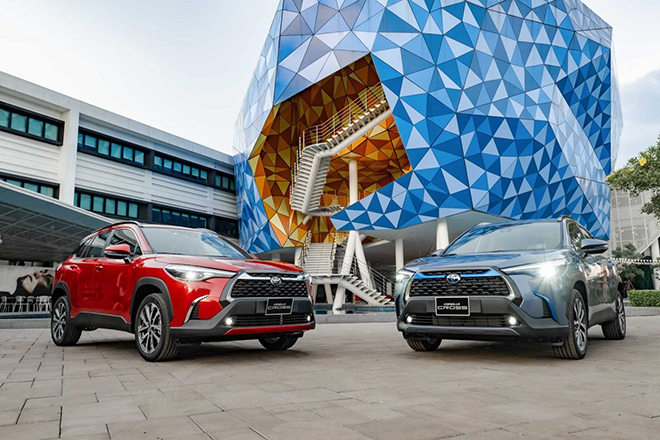 Vehicle specifications Toyota Corolla Cross 2020
Parameter

1.8G

1.8V

1.8HV

Size

Overall dimensions D x W x C (mm)

4,460 x 1,825 x 1,620

Wheelbase (mm)

2.640

Base width (mm)

1,560 / 1,570

Ground clearance (mm)

161

Minimum radius of rotation (m)

5.2

Fuel tank capacity (L)

47

Luggage compartment capacity (L)

440

Engine

Gasoline engine

Engine type

2ZR-FE

2ZR-FXE

Fuel type

Gasoline

Number of cylinders

4

Cylinder arrangement

Straight

Cylinder capacity (cc)

1798

Compression ratio

ten

13

Fuel system

Electronic fuel injection

Maximum capacity (hp @ rpm)

138 @ 6,400

97 @ 5,200

Maximum torque (Nm @ rpm)

172 @ 4,000

142 @ 3,600

Electric motor

Maximum capacity (hp @ rpm)

-

53

Maximum torque (Nm @ rpm)

163

Hybrid battery

Nickel Metal

Emission standard

Euro 4

Urban fuel consumption (L / 100km)

11

10.3

4.5

Fuel consumption outside urban areas (L / 100km)

6.1

6.1

3.7

Combined road fuel consumption (L / 100km)

7.9

7.6

4.2

Drive

Front bridge

Gear

CVT

Driving mode

-

3-mode Eco drive (EV Mode, Normal / Eco / Power)

Chassis

Frame

TNGA

Front suspension

MacPherson with stabilizer bar

Rear suspension

Semi-dependent, twisted bar with balance bar

Power steering

Electric power assist

Rim

Alloy

Tire size

215 / 60R17

225 / 50R18

Spare tire

Steel rim

Front / rear brake

Disc / Disc
Refer to the design of Toyota Corolla Cross 2020
Exterior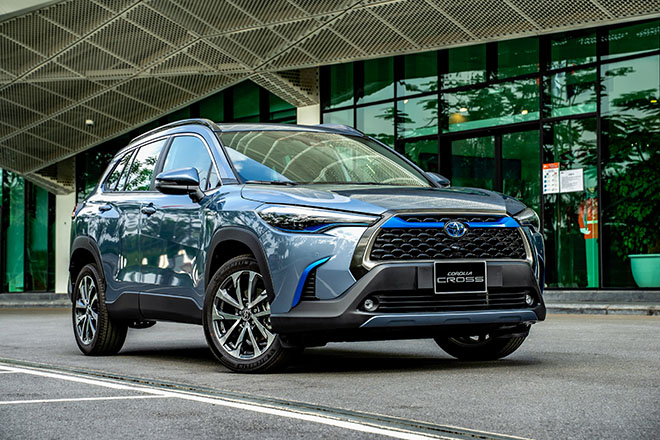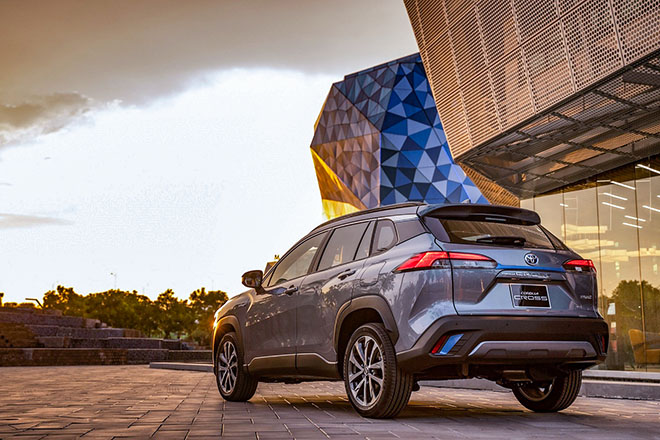 Toyota Corolla Cross 2020 owns a design that bears many similarities with the latest generation Toyota RAV4, the overall car looks very strong, bold SUV.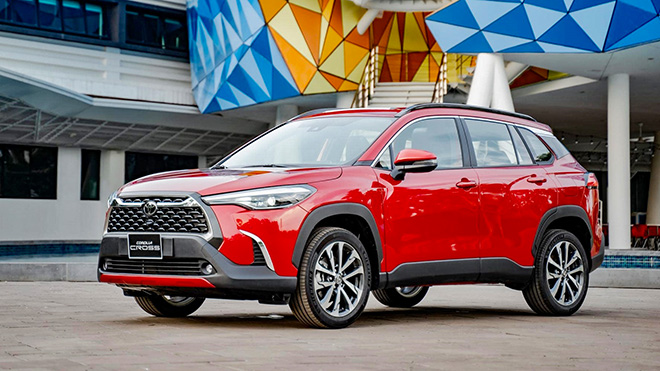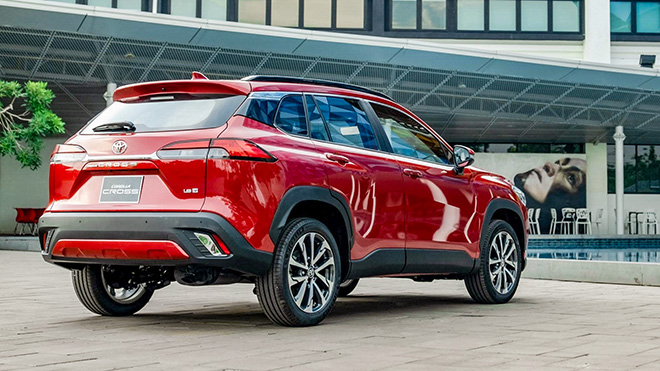 Corolla Cross 2020 uses Toyota's new global architecture platform TNGA that appeared on Corolla Altis and C-HR. The front of the car stands out with a large grille that is quite similar to the new Hilux, with the pit front bumper and LED headlights.
Along the body of the car is a set of 18-inch wheels with black trim, creating a strong and sturdy look for the car. Behind is the soft, eye-catching LED taillights.
furniture
The space inside the Toyota Corolla Cross 2020 uses Terra Rossa as the main color tone. Equipped with amenities on the car including the instrument cluster with integrated 7-inch multi-information display, 9-inch entertainment screen with Apple CarPlay integration, 8-way electric driver's seat, 4-way power adjustable seats, windows Electric sun, electric driver's seat, 2-zone air conditioning, rear-seat wind doors, USB socket, ...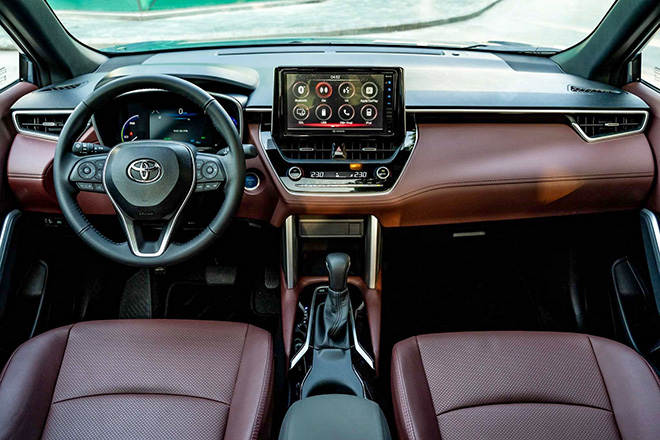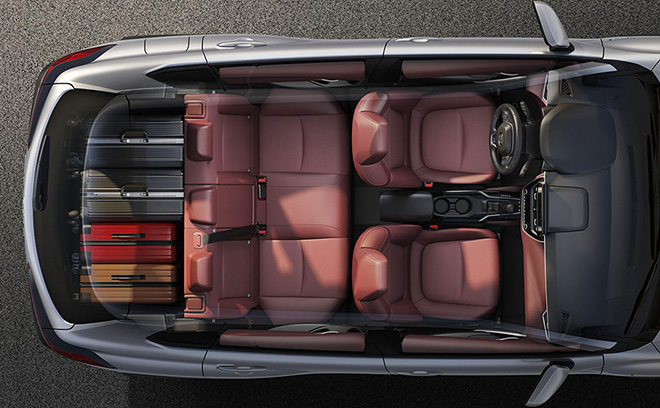 Engine
Toyota Corolla Cross 2020 is equipped with a 1.8L petrol engine combined with a CVT gearbox, generating a capacity of 140 hp and reaching 175 Nm of torque. The 1.8L hybrid version connects to a 600V electric motor, helping the car to generate a total capacity of up to 170 hp and reaching 305 Nm of torque.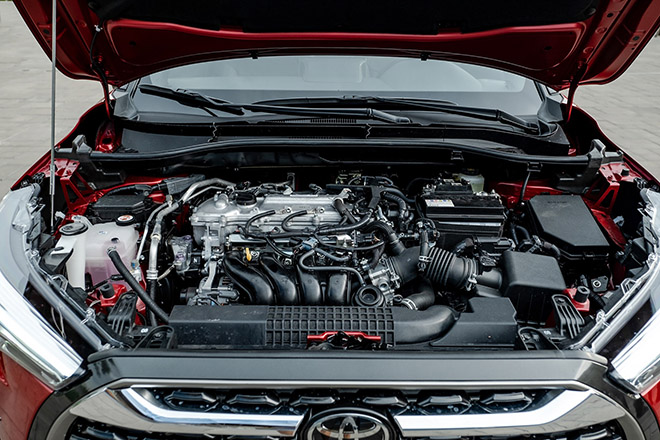 Safe
Safety equipment on the Toyota Corolla Cross is very complete such as: 7 airbags, ABS / EBD / BA brakes, electronic balance, traction control, blind spot warning, horizontal start assist, pressure warning tire, camera360, vehicle warning when reversing, front / rear parking assist sensors, ...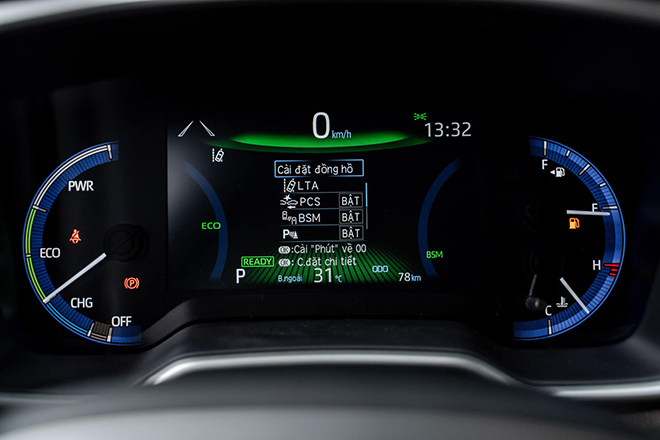 In particular, Corolla Cross in Vietnam will be equipped with the latest generation of Toyota Safety Sense active safety package for the 1.8 V and 1.8 HV versions with the following features: collision warning, lane departure warning, hold assist lane, active cruise control, adaptive auto headlights, ...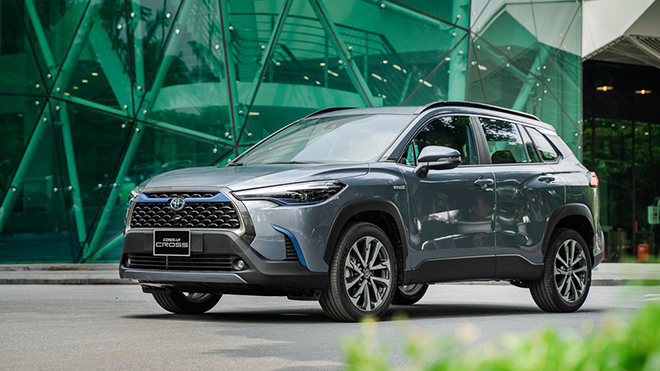 Review Toyota Corolla Cross 2020
Advantages:
Sound insulation is quite good when dealing with environmental noise, roaring noise and engine noise entering the interior compartment
+ Smooth suspension system
+ 1.8L engine but still powerful enough
+ CVT gearbox smoothly in all speed ranges
+ Toyota Safety Sense active safety system
Defect:
- The quality of the 360 ​​camera is not high
- Monotonous driving feeling
- The interior space is not too spacious.
Source:
---
---
Website of Vietnam Union of Science and Technology Associations
License number: 169 / GP-TTĐT, dated October 31, 2012
Head of Editorial Department: DANG VU
The Vietnam Union system was founded with 15 members. Currently, that number has risen to 148, including 86 national industry associations and 63 local associations. In addition, in the system of the Vietnam Union, there are more than 500 scientific and technological research units established under Decree 81 (now Decree 08); over 200 newspapers, magazines, electronic newspapers, newsletters, specialties, electronic news sites.